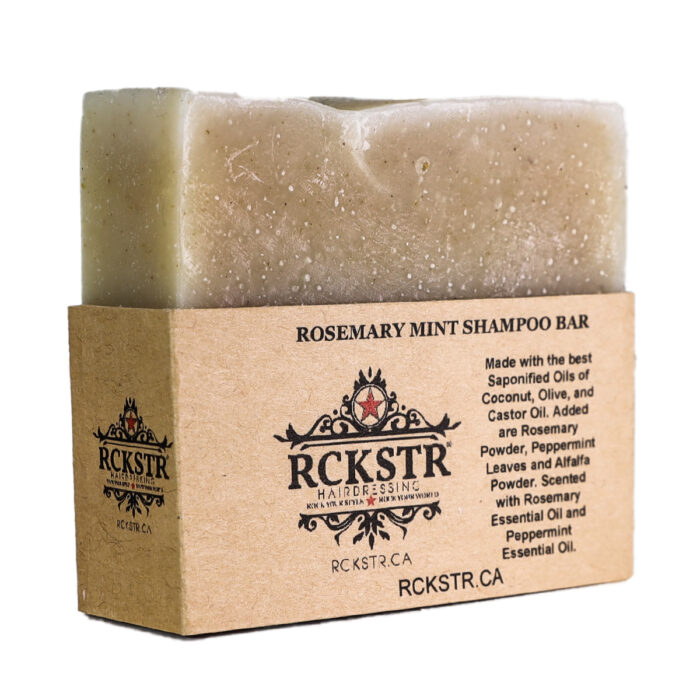 Rosemary Mint Shampoo Bar
$9.00
Say goodbye to harsh chemicals and hello to nourishing, natural ingredients with our Rosemary Mint Shampoo Bar. Made with a blend of the finest saponified coconut oil, olive oil, and castor oil, this bar provides a deep cleanse while gently nourishing your hair.
The addition of rosemary powder, peppermint leaves, and alfalfa powder gives this shampoo bar a boost of natural benefits. Rosemary powder promotes healthy hair growth and helps to strengthen hair follicles, while peppermint leaves invigorate and stimulate the scalp. Alfalfa powder is rich in vitamins and minerals, providing essential nourishment for your hair.
Scented with the invigorating aroma of rosemary essential oil and peppermint essential oil, this shampoo bar is a treat for the senses. The combination of these essential oils provides a fresh, minty scent, while also offering additional benefits for your hair. Rosemary essential oil helps to improve circulation, while peppermint essential oil provides a cooling sensation and helps to soothe an itchy scalp.
Our Rosemary Mint Shampoo Bar is made with zero water waste and zero plastic waste, making it an environmentally friendly choice. This bar is also cruelty-free, meaning it is not tested on animals. Made in Canada with the finest ingredients, this bar is the perfect choice for anyone looking for a natural and sustainable hair care routine.
Description
Additional information
Reviews (0)
Description
Made with the best of Saponified Coconut Oil, Olive Oil, and Castor Oil. Added are Rosemary Powder, Peppermint Leaves and Alfalfa Powder, and scented with Rosemary Essential Oil and Peppermint Essential Oil.
Zero water waste. Zero plastic waste. Not animal tested. Made in Canada.
Additional information
| | |
| --- | --- |
| Weight | 90 g |
| Dimensions | 7 × 2.5 × 7 cm |
| Title | Default Title |