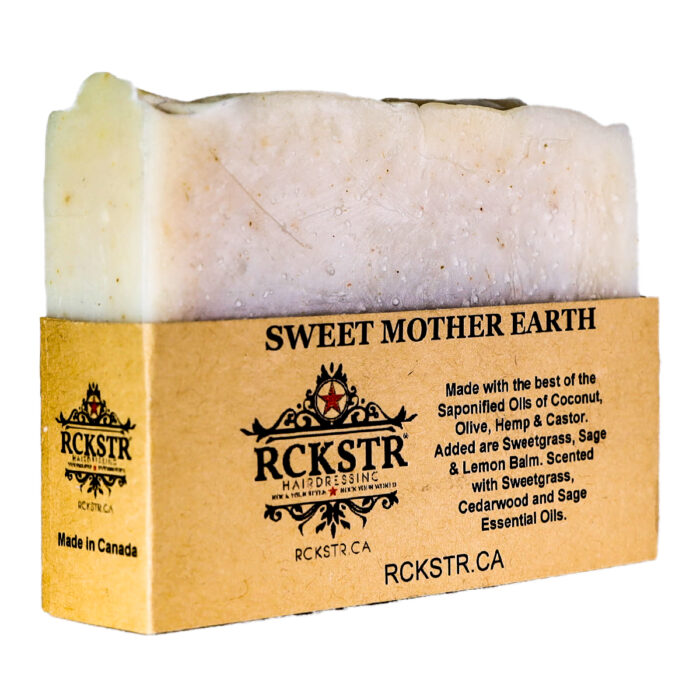 Sweet Mother Earth bar soap
$9.00
Bring the earthy and grounding scents of nature into your daily routine with our Sweet Mother Earth Soap Bar. Made with the finest saponified oils of coconut, olive, hemp, and castor, this bar provides a luxurious lather while nourishing your skin.
The addition of sweetgrass, sage, and lemon balm gives this soap bar a boost of natural benefits. Sweetgrass is known for its soothing and calming properties, while sage is a natural antiseptic and helps to purify the skin. Lemon balm provides a light, refreshing scent and helps to soothe and calm irritated skin.
Scented with the warm and earthy aromas of sweetgrass and cedarwood essential oils and sage, this soap bar is a treat for the senses. The combination of these essential oils provides a grounding and invigorating scent, while also offering additional benefits for your skin. Cedarwood essential oil is known for its grounding and calming properties, while sage essential oil provides a fresh and invigorating scent. Sweetgrass essential oil offers a warm, earthy scent and is believed to be a natural bug repellent.
Indulge in the ultimate in natural skin care with our Sweet Mother Earth Soap Bar. Perfect for use on the face and body, this bar is gentle, eco-friendly, and long-lasting, making it the ideal choice for anyone looking for a more sustainable and luxurious cleansing routine. With its natural ingredients and environmentally conscious packaging, this bar is a perfect way to honor the sweet earth and treat your skin to the best nature has to offer.
Description
Additional information
Reviews (0)
Description
Made with the best of the Saponified Oils of Coconut, Olive, Hemp & Castor. Added are Sweetgrass, Sage & Lemon Balm. Scented with Sweetgrass , & Cedarwood and Sage Essential Oils.
Additional information
| | |
| --- | --- |
| Weight | 125 g |
| Dimensions | 8.5 × 2.5 × 7 cm |
| Title | Default Title |